For millions of employees globally, working from home is the new normal. The lack of physical, face-to-face touch points makes it a bigger challenge for companies to keep company morale and performance high. As a remote-first company since its founding in 2016, Brankas employs individuals from around the globe. Our biannual Performance Review is one of our tried-and-tested techniques for ensuring that our colleagues are aligned with our vision to make modern financial services available to everyone. This provides an open forum for employees to communicate with their direct managers and the leadership team, review and set goals for the months ahead.
Performance Review Process
Our performance reviews are a way of measuring an employee's potential, personal connection to company values, and skills development. They are conducted once every six months, but employees have the option to do it twice a year, especially if they feel like they have done excellent work that they would want to bring up to their manager. We lay out the process and our typical presentation format below: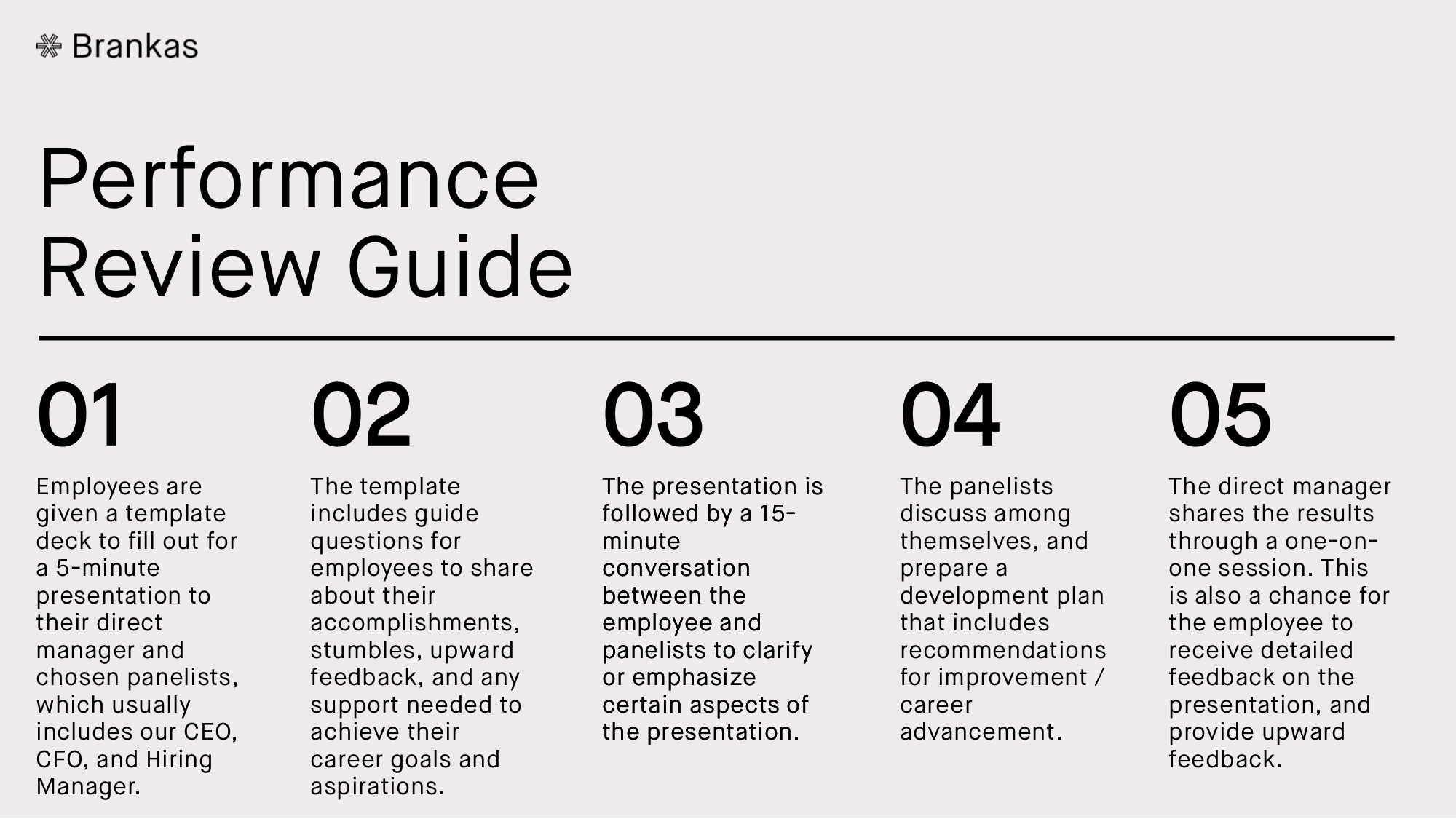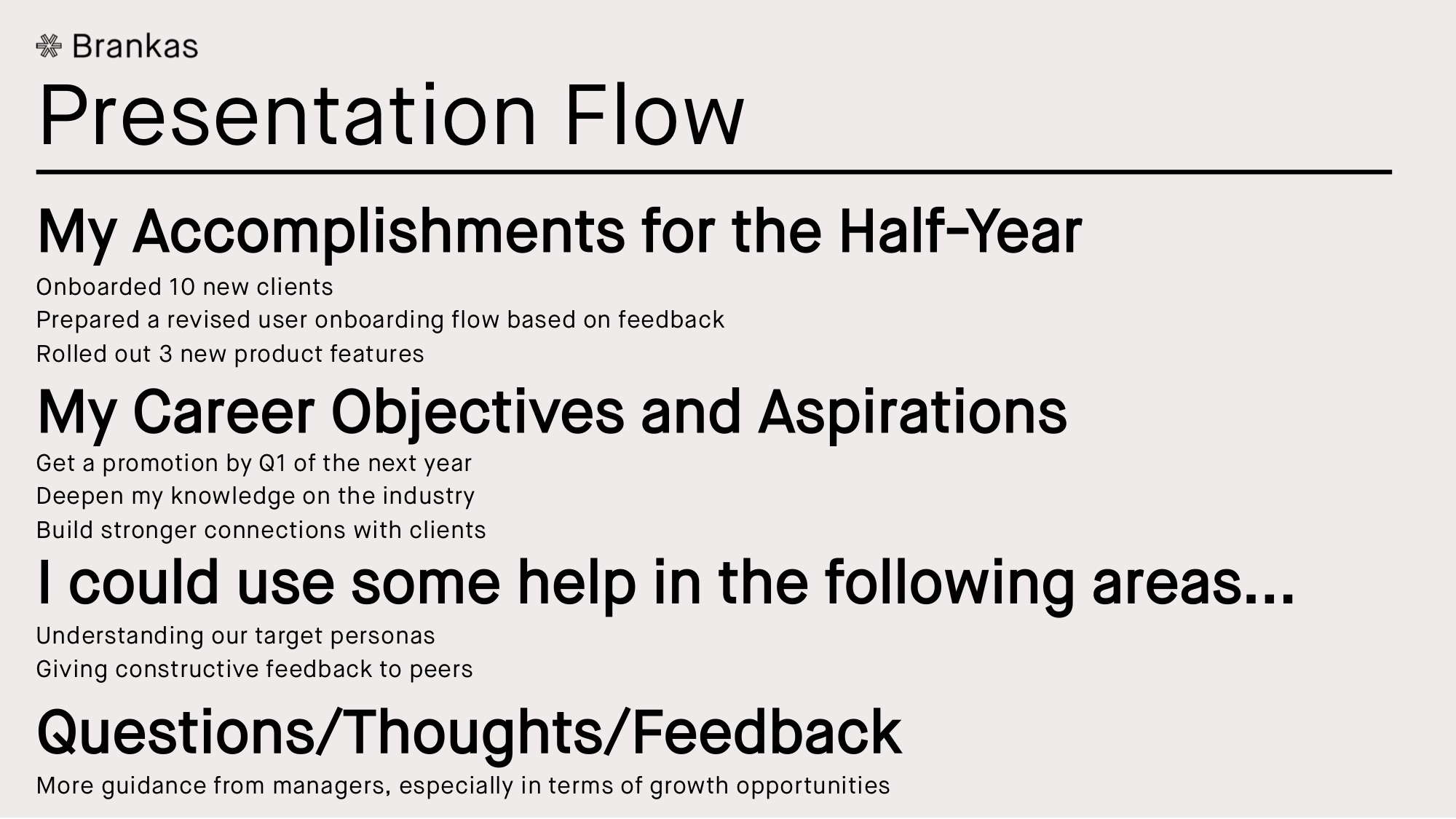 Performance is appraised according to current role, potential to take on bigger roles, and our company values (Leadership, Accountability, Creativity and Empathy).
Benefits
Brankas' performance reviews is an opportunity for each employee to share their achievements during the review period. The questions about passions and aspirations help the panel get to know the employee on a more personal level. Panelists are able to ask the employee questions, allowing them to expound on certain roles, clarify the details on projects done, or ask about potential roles the employee may explore based on the strengths he/she exemplified. Not only does this give each employee a fair chance to showcase potential, but it is also another avenue to strengthen company morale, as employees feel empowered by the direct, engaging conversations regarding their work with the panelists. The employees are given direct control to emphasize certain aspects of their work that they think are vital in evaluating their performance, reflecting our highly trust-based organizational culture. In this way, the management team is able to offer thoughtful support on how best to work together to achieve both the employees' personal/professional development goals and business goals.
Other Tools Used
Aside from Performance Reviews, Brankas employs other tools that are meant to go hand-in-hand with each other, allowing for a holistic people management approach for better development plans and HR services.
1. One-on-one Sessions
These sessions are held regularly between employees and their direct managers, for the purpose of informing managers of the employee's progress and roadblocks, if any. These one-on-one's are a place for coaching, mentorship, and updates.
2. Company-Wide Value Awards
These are also granted every 6 months to recognize team members who have exemplified the company values exceptionally well.
3. Upward Feedback Survey & Peer Feedback Survey
Surveys are also used to provide feedback to senior members of the team and peers – the Upward Feedback Survey and Peer Feedback Survey, respectively. Together, these help the HR team understand company dynamics better and provides team members an avenue to receive feedback necessary for their growth.
A Work in Progress
When Brankas first introduced Performance Reviews, some employees were hesitant about sharing to a panel – there were many questions regarding how performance will be appraised, how it will affect bonuses or promotions. Introverts within the team were likely apprehensive about having to deliver a presentation. However, after conducting the first round of reviews, much of the feedback was positive. HR took these comments into consideration when crafting the second round of reviews, which helped make the second – and succeeding – rounds more effective and organized. Brankas' methods of assessing performance are still a work in progress and are constantly being refined with much input from the employees themselves. However, in the long-run, establishing these systems and tools are crucial to ensure sustainable work ethic and high company morale, which are especially important in a remote-first, high-energy startup workplace.